As more and more shoppers return to brick-and-mortar stores to complete their grocery shopping, their expectations have changed a bit. They're looking for inspiration, for guidance and for time savings. According to Taste of Home's 2022 Cooking At Home Study, 69 percent of millennials are looking for ways to ease meal preparation, and 62 percent of those surveyed said they are seeking new recipes more frequently than they were six months ago.
At the same time, 77 percent of millennials report that they search their phones for recipes while in stores. They're hungry for ideas. That's why creating recipe cards and utilizing them throughout your store can be an effective point-of-purchase marketing tactic to drive additional sales. With The Merchandiser®, Shelf2Cart's on-demand custom label printer, it's easier than ever to give shoppers the inspiration and convenience they're seeking.
Point-of-Purchase Recipe Cards Provide a Shopping Map for Consumers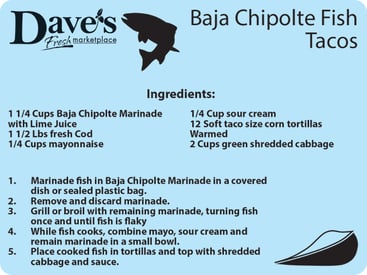 With its on-demand print capabilities and robust software, The Merchandiser makes it fast and easy to produce recipe cards, and cost-effective to print those recipe cards. The cards can then be placed throughout the store. Place a recipe card next to one key ingredient and it acts as a shopping list, leading shoppers from ingredient to ingredient as they load their carts with the necessities for meal preparation. There's no question that providing shoppers with both meal ideas and ingredient list is a win-win time savings strategy.
According to Recipe Guru, "This strategy provides instant gratification and can really capture the attention of those time-poor, post-work shoppers who are just popping in to grab dinner." Another bonus of recipe cards: easing the stress of meal prep undoubtedly garners good favor and store loyalty. When you're desperately trying to come up with ideas for dinner, it's a huge relief to stumble upon delicious ideas, while you're standing in front of the requisite ingredients.

Point-of-Purchase Recipe Cards Support Product Demos
Recipe cards can greatly enhance the effectiveness of product demos as well. Demos are a great way to showcase additional ways to use a product that shoppers may not have considered, and sending that shopper home with a recipe is a great way to remind them of the new preparation.

Because creating recipe cards with The Merchandiser really is as easy as pushing a few buttons to pull together information that is already stored in the system, creating new recipe cards isn't a laborious task, and printing those recipe cards on-demand means that you can replenish the cards as necessary.
Point-of-Purchase Recipe Cards Support Cross Product Promotion
Are you offering a new product? Have you added a new product line? Recipe cards are a great way to draw attention to those products. By showing consumers how they'll use the products once they get home, they'll be much more likely to make the purchase. While you display the new product alongside a recipe card, kick things up a notch further by displaying other items that are meant to accompany or complement the dish. Are you featuring a new salsa or dip? Add some chips, and maybe even some margarita mix to your display, then watch as the products move from shelf to cart. This type of cross merchandising is highly effective because it has two huge advantages: increasing sales while building customer loyalty.
Request More Information on The Merchandiser, Our On-Demand Label Printing System
For a demo of The Merchandiser, and for more information on how you can easily create recipe cards for your store, contact us at info@shelf2cartsolutions.com or 1.800.637.6628.
More Ways to Get in Touch With Us: